Hans Schöler appointed member of the Board of Directors of the International Society for Stem Cell Research (ISSCR)
Special honor for Director at the Max Planck Institute for Molecular Biomedicine in Münster
Professor Dr. Hans Schöler of the Max Planck Institute for Molecular Biomedicine was elected to be a member of the Board of Directors of the International Society for Stem Cell Research (ISSCR) by its membership. The three-year-term will begin at June 28, 2015 - following the Annual ISSCR Meeting, which is taking place in Stockholm in this year.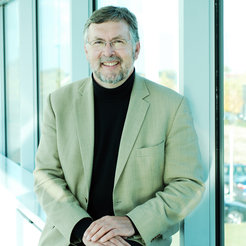 The International Society for Stem Cell Research (ISSCR) is an independent, non-profit organization and considers itself as the voice of stem cell scientists. The aim of the ISSCR is to provide information on and from stem cell research - both for scientists and for the general public. The ISSCR was founded in 2002 and nowadays has over 4,100 members wordwide.
"I am very delighted that the members of the ISSCR have elected me as member of the ISSCR Board of Directors," says Hans Schöler. "The ISSCR brings together the best stem cell scientists from basic and applied science and thereby acts as a catalyst for the development of new, more effective medical applications. I will give my very best to support the ISSCR in this endeavor," says Schöler.
Besides the scientific exchange, informing the public is another central purpose of the ISSCR. Hans Schöler, who is active in public relations in the stem cell field ever since his return to Germany in 2004, says: "It is important that patients and policy makers are well-informed with stem cell research facts. We aim to provide realistic estimates on future treatments in order to avoid unneccessarily stirring up hope with patients and to allow for political frames to foster well and profound research on stem cell applications."
The Board of Directors currently has 22 members and meets twice a year.
About Hans Schöler:
Professor Dr. Hans Schöler is Director at the Max Planck Institute for Molecular Biomedicine, Department of Cell and Developmental Biology and Professor of the Medical Faculty of the Westphalian Wilhems-University Münster since April 2004.
Hans Schöler has strong connections to South Korea: since 2012, he is Distinguished Professor at the National Institute of Science and Technology (UNIST) in Ulsan and since 2014 he is Distinguished Professor at the Konkuk University in Seoul.
He also is Adjunct Professor at the University of Pennsylvania (Philadelphia, USA) and at the Hannover Medical School (MHH).
Hans Schöler is Group leader in the Cluster of Excellence Cells-in-Motion (CiM).
Full CV: www.mpi-muenster.mpg.de/97800/cv