Science and society
The Max Planck Society is a non-profit research organisation, which is why scientists at its institutes are obliged to make the results of their work accessible to the general public. Not only do our researchers publish their results in scientific articles in renowned national and international scientific journals, in databases and specialized text books. We are also enganged in a dialogue with the public and inform on complex issues - for instance in stem cell research.
The Max Planck Institute for Molecular Biomedicine is partner of the Allianz für Wissenschaft Münster. On this internet platform www.allianz-fuer-wissenschaft.de, the University Münster, the University of Applied Sciences and the City of Münster inform on how they are shaping Münster's profile and position as a site of science and lifestyle.
A further regional cooperation partner is the Stem Cell Network North Rhine Westphalia.
---
Internet platform on stem cells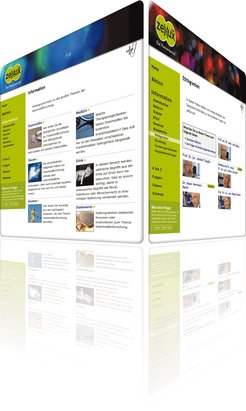 In October 2008, the Max Planck Institute for Molecular Biomedicine - together with important institutions from areas Church, Ethics, Didactics and Medicine - launched the internet platform www.zellux.net. The German portal offers extensive background information on the main topics in stem cell research - ranging from ethical aspects to legal questions and position of the various religions.
The wep portal was established with the scientist PD Dr. Tobias Cantz in charge, who headed the MPI-associated junior group Stem Cell Biology. Several other institution from Church, Ethics, Didactics and Medicine were also involved in the development. The initiative was supported by the Federal Ministry for Education and Research.