The Max Planck Institute rides a race
Cycling enthusiasts at the institute in Münster join the CITY CYCLING campaign of the Climate Alliance to collect as many everyday kilometres as possible for climate protection and the promotion of cycling
A glance at the full bicycle stands at the Max Planck Institute for Molecular Biomedicine in the Röntgenstraße reveals that many bicycle enthusiasts already cycle to work. Not only from within the city, but also from the surrounding area, employees commute to the institute by bike. Some colleagues regularly cycle to Münster from Albachten, Telgte, Senden or Ostbevern.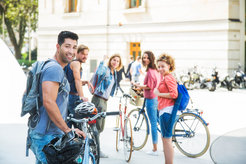 In order to attract even more colleagues on their bikes, a team from the Max Planck Institute is participating in the CITY CYLCING campaign. In the period from August 5 to 25, the participants will cycle as many everyday routes as possible in a climate-friendly way in order to make a contribution to climate protection and perhaps even win something. Or simply to discover the fun of cycling.
This year, the long-standing campaign will focus on the Corona crisis. The bicycle is currently the most sensible means of transport and enables people to cover everyday distances with a comparatively low risk of infection. Biking also promotes health. The experience of community is also an important theme for the campaign this year. In times of contact restrictions, the joint collection of bicycle kilometres in digital teams is a good way to overcome current restrictions and cycle towards a goal together.
With its international competition CITY CYCLING, the Climate Alliance invites all citizens and members of local parliaments to pedal and set an example for increased promotion of cycling. The campaign aims to sensitise citizens for cycling in everyday life and to introduce the topics of bicycle use and bicycle traffic planning more strongly into the local parliaments.