Sara Wickström is the new IMPRS spokesperson
A big "thank you" goes to the former spokesperson Dietmar Vestweber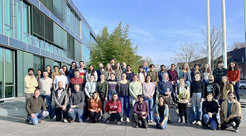 Sara Wickström, director of the Department of Cell and Tissue Dynamics at the MPI, took over the role of IMPRS spokesperson on February 1st 2023. She follows Dietmar Vestweber, who initiated the IMPRS and was spokesperson since 2009.
The IMPRS stands for International Max Planck Research School and is the graduate program of the Max Planck Institute for Molecular Biomedicine. The IMPRS is closely integrated within the CiM-IMPRS graduate program, which is a cooperation between the Max Planck Institute for Molecular Biomedicine and five faculties of the University of Münster. It offers students exceptional scientific training opportunities in the field of molecular and cellular biosciences with a focus on imaging.
The PhD students, the CiM-IMPRS coordination office, fellow spokesperson Andreas Püschel and the Max Planck Institute thank Dietmar Vestweber for all his support and encouragement in all these years.