Sara Wickström will be honored the "Innovation in Research Award" of the American Society for Cell Biology
Significant impact for the progress in advancing the field of cell biology
Sara Wickström will receive this year's Innovation in Research Award from the American Society for Cell Biology (ASCB) for her research innovation that significantly impacts progress in advancing the field of cell biology. The ASCB yearly recognizes worthy scientists, from trainees to seniors, with a variety of prestigious awards and grants. One of these awards is the "Innovation in Research Award", recognizing early and mid-career scientists for their new and innovative research in cell biology.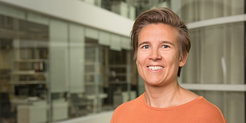 "I feel incredibly honored and thankful to the ASCB for this award," Sara Wickström says. "Importantly, I would like to thank all past and current lab members whose hard work and dedication is behind all our discoveries."
In her research, Sara Wickström uses a unique combination of stem cell biology, mechanobiology and epigenetics to uncover how single stem cell behaviors are coordinated at the population level, and how population-level dynamics are coupled to tissue architecture. Uncovering these regulatory principles will facilitate the development of stem cell and regenerative therapies and more effective treatments against cancers. As a self-renewing organ maintained by multiple distinct stem cell populations, the skin epidermis represents an outstanding, clinically highly relevant research paradigm to address these questions.
As a winner of the "Innovation in Research Award", Sara Wickström will give a Minisymposium or a Special Interest subgroup talk at the Cell Bio 2023 ASCB|EMBO Meeting, the joint meeting of the American Society for Cell Biology (ASCB) and European Molecular Biology Organization (EMBO) to be held in Boston, USA, in December 2023.
Sara Wickström is a Director at the Max Planck Institute for Molecular Biomedicine in Münster since November 2021 and heads the Department of Tissue Dynamics. Before, she was Professor of Cell and Developmental Biology at the Faculty of Medicine and Helsinki Institute of Life Science.