FameLab: Olga Sin wins Germany finale

Max Planck researcher wins over the audience with a fascinating talk about her research
In just three minutes on April 27th in Bielefeld, Dr. Olga Sin explained her protein research – and won over her audience. Olga Sin, a researcher at the Max Planck Institute of Molecular Biomedicine and member of the Young Academy at the Cells-in-Motion Cluster of Excellence, won the German finale of FameLab and also received the audience award. As the winner of the German competition she will now represent Germany in the international FameLab finale to be held in Cheltenham, England, in June.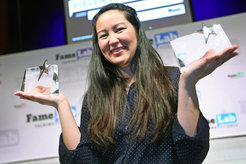 Eight young researchers took the stage in Bielefeld to compete in the FameLab Germany Final 2017. An audience of over 1,300 enjoyed an enlightening and exciting glimpse into the world of science with topics ranging from earthquakes to DNA Origami.
The winner was Olga Sin, who convinced the jury with her explanation of how a brainless worm could help to cure brain diseases. The Junior Postdoc at Max Planck Institute for Molecular Biomedicine is doing research on the development of protein aggregates in Alzheimer and Parkinson patients: with advancing age, proteins show an increasing tendency to aggregate, which can be toxic to the brain. With her presentation, she not only convinced the jury, but also won the audience award.
Olga Sin is postdoc in the Max Planck Research Group "RNA Biology". Already in the end of March, Olga Sin won the regional FameLab and the audience prize.
FameLab:
FameLab is one of the largest competitions for scientific communication worldwide and is now held in more than 30 countries. In just three minutes, candidates have to explain complex scientific processes to an audience of non-specialists in an easy-to-understand and creative way. The only props they are allowed to use are those they can bring up onto the stage themselves.