Obituary of Sybille Benning
The Max Planck Institute for Molecular Biomedicine mourns the death of Sybille Benning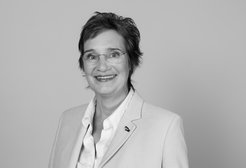 Sybille Benning had been a member of the Board of Trustees of the Max Planck Institute for Molecular Biomedicine since 2014 and a member of our 'Friends' since 2009. However, we had the pleasure of getting to know her open personality and her commitment to Münster as a science location even earlier: as a member of the Münster City Council, she already showed a great and upright interest in our scientific topics and in the people who work at the Institute.
We are very grateful to Sybille Benning for her genuine commitment to the interests of our institute.
Our deepest sympathy goes to her family.

Max Planck Institute for Molecular Biomedicine, Münster
Dietmar Vestweber, Managing Director
Ralf Adams, Director
Sara Wickström, Director
Hans Schöler, Director em.
Martin Becker, Head of Administration-Technics-IT