Congress Award Münster 2023 to Professor Dr. Hans Schöler
Anniversary conference of the German Stem Cell Network GSCN and the Stem Cell Network.NRW in Münster had international appeal
On March 30, 2023, the festive award ceremony of the Congress Award 2023 took place in the Erbdrostenhof in Münster. Since 2014, the Münster Congress Initiative has been awarding this prize to organizers who, with a great deal of commitment, help to raise Münster's profile as a congress location both nationally and internationally. Prof. Dr. Hans Schöler as well as Prof. Dr. Sabine Flamme (Department of Civil Engineering at Münster University of Applied Sciences) and Prof. Dr. Bernd Strauß (Institute for Sports Psychology at the Westphalian Wilhelms University of Münster) received the awards for their respective congresses from Lord Mayor Markus Lewe.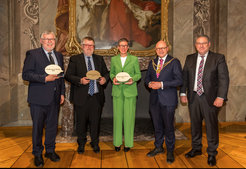 Professor Dr. Hans Schöler was president of the German Stem Cell Network GSCN in 2021/2022 and hosted the network's anniversary meeting in Münster in September 2022. The tenth meeting of the German Stem Cell Network coincided with the 20th anniversary of the Stem Cell Network.NRW. In the 4-day joint congress, about 500 researchers in stem cell biology, regenerative medicine, philosophy and ethics from all over the world met. Because of its stimulating atmosphere and low-threshold nature, the conference is very popular with many young people in particular.
Science talks, data debates, both at the poster sessions, in the hallways, during the breaks - the meeting provided countless opportunities for scientists to engage in a lively exchange. One of the highlights of the conference was certainly the keynote lecture by Japanese Nobel laureate Shinya Yamanaka, who, according to Schöler in his acceptance speech, felt "right at home" in Münster. Another highlight was a relaxed evening event at the nearby Club Heaven, which surprised even the young researchers with its urban flair. As another highlight, Lord Mayor Markus Lewe opened the well-attended public panel discussion in the Rathausfestsaal with the topic: the state and future of stem cell research and new treatment options.
According to the jury's verdict, the stem cell conference had provided a good networking opportunity for young scientists in particular, had raised Münster's international visibility as a science and congress city in an outstanding way, and had emphasized the already good cooperation between the city of Münster and the scientific community.
Out of a total of 439 congresses held in the time frame from 2019 to 2022, fifteen made it to the shortlist, with three ultimately making the cut. The decision-making criteria for the award included the aspects of internationality, sustainability in organization and implementation, promotion of young scientists, and involvement of business and the public.